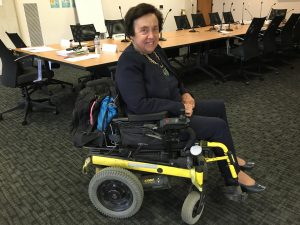 Greetings, everyone! We have an exciting meeting coming up. Our very own El Cerrito Mayor Janet Abelson will be our featured speaker. She will discuss her vision for El Cerrito's economic development, including housing plans. We will also hold a Q&A session after her presentation, so come with questions in mind.
Other issues to tackle include: a budget update; a by-law update to enable our VP of Records to promulgate and implement a document retention policy; and a request for an organizational endorsement by Betty Brown for the "People, Planet, Justice, Jobs, and Peace" movement. I will also attempt to resolve the lighting issue that made the outside walkway paths so dark at our last meeting.
At our monthly Executive Board meeting, we focused on the speaker schedule for the upcoming year. For March, we will be implementing the general membership's wish (ratified at our Jan. general meeting) to discuss, learn, and implement strategies discussed in the "Indivisible Guide." See Hilary's blog post below on the web link and for more information on how to access the guide. We are continuing to work on the proposed debate for California Democratic Party Chair (more details forthcoming, as soon as the details become finalized).
Our Executive Board had a quorum present, including: the President, Immediate Past President, VP of Publications, VP of Records, VP Treasurer, VP of Programs, and VP of Media. Pursuant our Jan. 2017 by-law amendment, this post is to serve as the report of the Executive Board meeting.
Lastly, please note that this blog post may be posted at a time later than I have written it by another member of the Executive Board. I have written this blog post during my own time as a private citizen during "non-company" hours.
Thanks to everyone for their hard work,
Peter